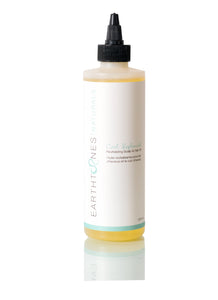 WHAT IS IT?
This lightweight scalp and hair oil improves dry scalp and can increase the strength of the hair. Hair is moisturized, healthier, softer and more manageable.

WHAT'S IN IT?

All of the oils of the oils in Curl Replenish™ Revitalizing Scalp & Hair Oil have been chosen for their ability to be beneficial to the health of the hair and scalp.
Fractionated coconut oil penetrates into the hair shaft, helps reduce protein loss from the hair and is great for moisturizing hair.
Avocado oil

 

to soften and condition the hair.
Sacha Inchi oil: it is the most unsaturated vegetable with an unsaturated fatty acid content of 93.69%. Sacha Inchi oil has the lowest content of saturated fatty acid with 6.39% (great right?). More than 80% of the oil is essential fatty acids with 33% Omega- 6 (linoleic acid), 48% Omega 3 (alpha-linolenic acid), and 9% non-essential Omega 9. Omega 3 helps to regulate oil production and helps to lock in moisture to keep hair and scalp conditioned.  This relives scaly or irritated scalps from psoriasis and eczema. 
Pracaxi seed oil

 

contains a high concentration of Behenic acid which is extremely moisturizing to the hair. It absorbs readily into the hair and skin. It also protects the hair fiber from damage and enhances shine.
Jojoba oil, which is similar to our natural sebum. It can penetrate through the hair follicles, increase moisture in the hair and may minimize scalp problems.
Olive oil to moisturize and soften the hair. It contains squalene, which is like our natural sebum. It is also a humectant, helping to attract moisture to the hair.   
Peppermint oil has a cooling action on the scalp and can improve circulation.

   
Curl Replenish Revitalizing Scalp & Hair Oil™ Helps To:
Reduce scalp dryness and itching and is great for braided and twisted styles
 
Lessen the occurrence of scalp problems
 
Reduce protein loss from the hair
 
Increase moisture in the hair
 
Soften and condition the hair
 
HAIR TYPE:
This product is suitable for all hair types.
DIRECTIONS: 
Untwist the applicator tip and apply the oil to your scalp and hair. Gently massage the product into your scalp to distribute well.  Apply Curl Replenish™ Revitalizing Scalp & Hair Oil as needed.

INGREDIENTS: 
Fractionated Coconut oil, Avocado oil, Pracaxi Seed oil, Sacha Inchi Seed oil, Jojoba oil, Extra Virgin Olive oil, Peppermint essential oil, Fragrance, Vitamin E