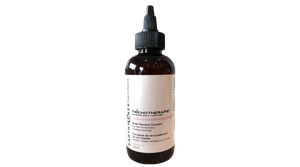 Scalp Renewal Complex is a water-based formula that is a potent blend of botanical extracts, moisturizers and exfoliants. It soothes itching, calms irritation and hydrates the scalp.
It contains moisturizing coconut water and aloe vera juice to hydrate the scalp. Herbal extracts include calendula, arnica, witch hazel, goldenseal and ginger root which soothe the scalp and combat inflammation. This complex contains specialized actives to reduce itching and restore proper microbial balance. Fruit acid extracts exfoliate dead skin and debris, reducing build up and flaking supporting a healthy scalp. Peppermint essential oil provides instant cooling and relief while tea tree essential oil offers anti-microbial action to help reduce flaking.
- 90% natural and plant-derived ingredients
- Free of synthetic fragrances 
SULFATE FREE SLS/SLES FREE PARABEN FREE CRUELTY FREE SILICONE FREE MINERAL OIL FREE GLUTEN FREE 
DIRECTIONS:
Apply to the scalp in sections using the applicator to part the hair. Gently massage the product into the scalp. Apply as frequently as needed.

INGREDIENTS:
Purified water, Aloe Barbadensis Leaf Juice, Citric Acid, Sodium Benzoate, Potassium Sorbate, Polysorbate 20, Glycerin, water, Calendula Officinalis (Calendula) flower extract, Cocos Nucifera (Coconut) liquid endosperm, glycerin, Cocos Nucifera (Coconut) fruit juice, Saccharide isomerate, water, citric acid, sodium citrate, Glycerin, Lactitol, Xylitol, Glycerin, water, Hamamelis Virginiana (Witch Hazel) extract, Glycerin, water, Arnica Montana (Arnica) flower extract, Opuntia Ficus-Indica stem extract, Glycerin, Phenoxyethanol, Water, Glycerin, water, Hydrastis Canadensis (Goldenseal) extract, Water, Vaccinium Myrtillus (Bilberry) extract, Saccharum Officinarum (Sugar Cane) extract, Citrus Aurantium Dulcis (Orange) fruit extract, Citrus Limon (Lemon) fruit extract, Acer Saccharum (Sugar Maple) extract, Hydroxyethylcellulose, Glycerin, water, Zingiber Officinale Roscoe (Ginger) root extract, Polyquaternium-7, Melaleuca Alternafolia (Tea Tree) Leaf Oil, Phenoxyethanol, Caprylyl Glycol, Mentha Piperita (Peppermint) Leaf Oil