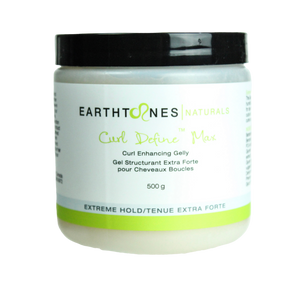 This is the strong holding version of our best-selling Curl Enhancing Gelly and it provides the strongest hold out of the styling products. This product gives an exceptional hold to curls in high humidity. It creates frizz-free curls and styles that last for days and days. The formula is not sticky or tacky and creates maximum curl clumping on even the hardest to hold curls, creating maximum curl definition.
Use it for wash n' go styling, twist outs, and braids out. It creates extreme clumping of curls to define curls that our regular Gelly may not provide enough hold for. This product provides a strong, touchable hold. Hair has movement and flexibility.

DIRECTIONS:
With this product, the use of a leave-in moisturizer or conditioner is recommended as it does create a strong hold. However, in high humidity conditions, a leave-in may not be needed. Use based on the needs of your hair.

Apply to freshly washed and conditioned hair in small sections on either damp or wet hair. If you are using a leave-in product, apply the Gelly after applying your leave-in. Section hair and apply the Gelly, smoothing to distribute it through the section and then - if necessary - shingling the product through the hair to create extremely defined curls.

This Gelly is concentrated. Start with applying a small amount to the section and apply more to increase definition. Let your hair dry and to reduce frizz, avoid touching your hair as it dries.

This Gelly creates a stiff gel cast that softens up naturally over time. You can soften it right away by gently scrunching in a small amount of Curl Quench™ Hair Butter or Curl Quench™ Coconut Moisture Milk into your hair after it dries completely.

INGREDIENTS:
Purified water, Glycerin, Aloe Barbadensis Leaf Juice, Citric Acid, Sodium Benzoate, Potassium Sorbate, Xanthan gum, Sodium PCA (sodium L-pyroglutamate), D-panthenol, water, Glycerin, water, Macrocystis pyrifera (Sea Kelp) extract, phenoxyethanol, Glycerin, water, Bambusa vulgaris (Bamboo) extract, Dehydroxanthan Gum, Phenoxyethanol, Caprylyl Glycol, Fragrance