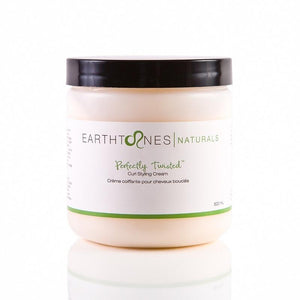 This concentrated, versatile styling cream-gel is packed with moisturizing ingredients for softly enhancing curls, adding definition and hold to puffs, twists, braids and other natural hairstyles. This cream reduces frizz, adds shine, moisturizes and softens the hair.

HAIR TYPE:
This styling cream is great for ALL curly hair types as a soft hold curl definer or styling aid.

DIRECTIONS:
Wash and condition hair, rinsing the conditioner from the hair. For best results, Perfectly Twisted™ Curl Styling Cream should be applied to damp hair. For wash 'n go styling, section hair and apply the cream by either raking or smoothing the product through each section from root to tip. Allow hair to air dry or use a diffuser to reduce drying time, being careful not to touch your curls.
 To use for your twist-outs and braid-outs, section hair and apply the styling cream to those sections. Twist or braid hair. Once the hair is dry, carefully untwist or unbraid each section.
For other natural hairstyles, apply the product to damp hair, ensuring even coverage throughout the hair. Style as usual.

INGREDIENTS:
Purified Water, Aloe vera juice, Glycerin, Coconut Oil, Cupuacu Butter, Castor Oil, Vegetable emulsifier, Sorbitol, Fragrance, Panthenol, Xanthan gum, Paraben-free preservative